Clients are required to fill out their Informed Consent prior to matching with a provider. Just like in traditional face-to-face therapy, therapists should collect informed consent from clients prior to conducting therapy in accordance with their state laws.
Important Note:

If you are licensed in multiple states, our system will automatically generate the informed consent based on the client's reported state.
Informed Consent Text
I give consent to PROVIDER_NAME, License Number INSERT_NUMBER, to perform therapeutic services determined to be necessary or advisable for the benefit of my health.
Informed Consent
I understand that online counseling services include, but are not limited to, consultation and treatment using interactive audio, video, and/or data communications. I understand that online counseling services involve the communication of my medical/mental health information to the above referenced provider. I have the right to withhold or withdraw consent at any time without affecting my right to future care or treatment; nor risking the loss or withdrawal of any benefits to which I would otherwise be entitled.
I understand that the laws that protect the confidentiality of my medical information also apply to online counseling services. As such, I understand that the information disclosed by me during the course of my therapy is generally confidential. However, there are both mandatory and permissive exceptions to confidentiality, including, but not limited to reporting abuse; expressed threats of violence towards an ascertainable victim; and where I make my mental or emotional state an issue in a legal proceeding. I understand that the dissemination of any information is under the same HIPAA standards as traditional therapy. Although rare, I understand that there are risks to Internet based services including, not limited to, the possibility, despite reasonable efforts on the part of the Platform and/or Therapist, that: the transmission of my medical information could be disrupted or distorted by technical failures; the transmission of my medical information could be interrupted by unauthorized persons; and/or the electronic storage of my medical information could be accessed by unauthorized persons.
I agree that the location of the therapy is the state where my licensed therapist is located, even when I am communicating with my therapist by digital or text message platforms. I agree that my therapy is under the licensing rules and laws of the state my therapist is licensed in.
By participating in on-line therapy services I am aware of potential benefits and risks. Some benefits may include improved access to services, being able to choose the therapist I want with specialty experience, the convenience of not having to travel to a therapist and using whatever means of communication I am comfortable with.
Although risks are rare, I am aware there are possible risks which include that the information I am able to give may not be sufficient to allow for a diagnosis, that there may be delay in response from my therapist due to technical failures or unforeseen events, and that I may not be able to respond to my therapist due to my own technology failures or unforeseen events.
I understand that my therapist may not be able to provide certain services to me. If my therapist believes I need additional or other services, they may refer me to another specialist or type of care, such as seeing a medical doctor for further evaluation and treatment.
If I decide that I would like to switch to another therapist on the Talkspace platform, I can ask my therapist and they will help me.
If I want a "real time" or instant message style discussion with my therapist, I will need to schedule it. Otherwise, my therapist and I will communicate asynchronously, not as instant message or in real time.
I can contact my therapist either via the Internet at Talkspace.com or with the Talkspace free mobile App.
It is not recommended that I suddenly stop contacting my therapist or "drop out" without talking about the termination of therapy. Therapists and clients talk about the expected length of therapy and ending the therapeutic relationship. Informed consent continues throughout the course of therapy and my therapist will continue to talk with me about risks, benefits or educate me on the process of therapy as we go along.
---
The Following Applies Only For Parents Completing an Informed Consent for a Teen:
I understand that in consenting to treatment for my teen, I agree to the terms above as they may apply to my teen. I understand that the Therapist's Client is my teen and not me. I agree to not have access to my teen's transcripts / "room" without his/her permission. I also understand that the laws and regulations governing medical records may preclude my teen's therapist from speaking with/communicating with me or from seeing my teen's medical record without my teen's express permission. Different States allow different access to parents. Your Teen's Therapist will make this information available to your teen and the information is readily available to you on Talkspace.com at the FAQ page.
To access the Informed Consent, you can locate it by following these steps:
Click into a client's room
Click on the Case tab
Open the Actions dropdown
Click on Informed consent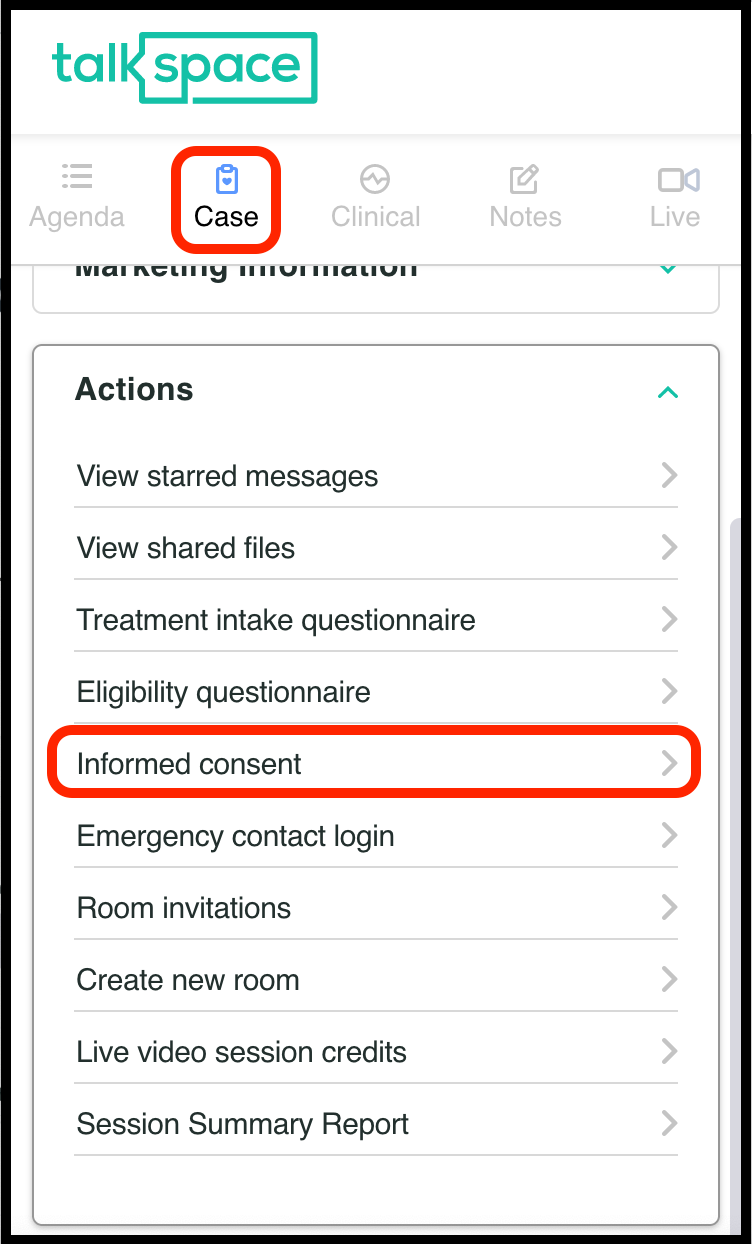 If a client has completed the Informed Consent, it will be show Informed consent has been completed. Please verify that it has been completed and signed.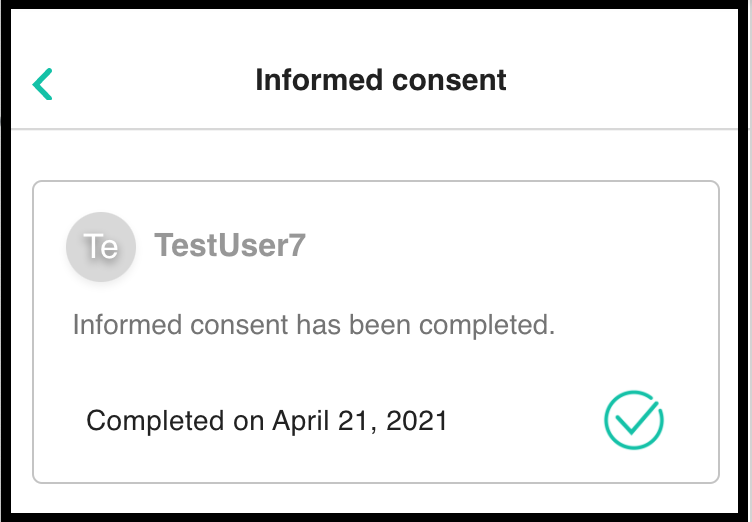 As of September 28, 2022, clients are required to complete their informed consent prior to being matched with a provider. However, if any client that was matched with you prior to that date has not completed it, you may prompt them to sign it by clicking send informed consent again.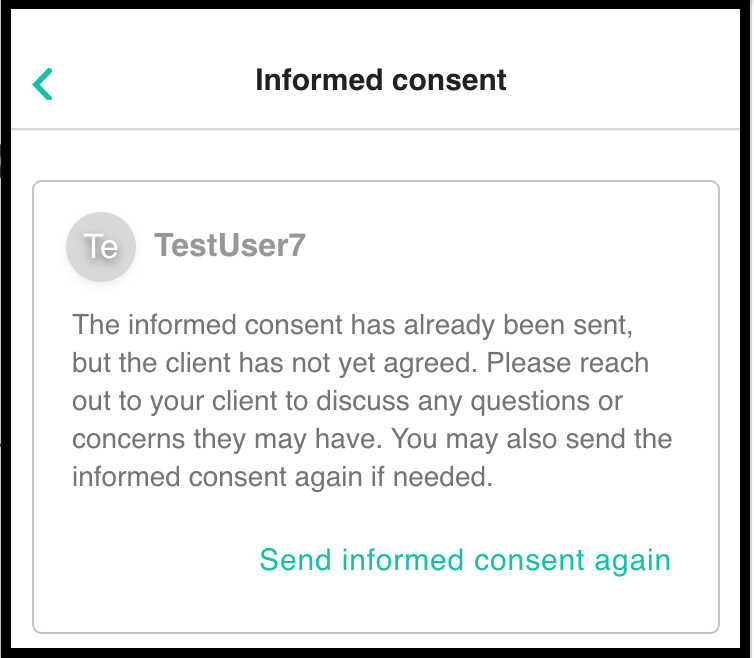 If your client has transferred to you from another provider and therefore already completed the informed consent, you will see this completed informed consent, but may still send another informed consent by clicking Send informed consent.